More from Multimedia ...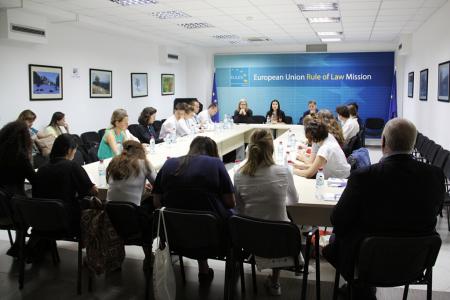 Today, Amsterdam University College students visited EULEX, with the aim of learning more about the Mission, different processes in Kosovo in regards to social...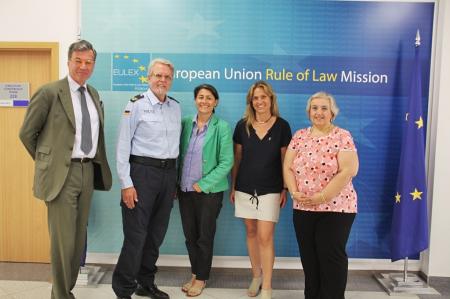 Today, Ms. Alexandra Papadopoulou, EULEX Head of Mission and Bernd Thran, EULEX Deputy Head of Mission, met with two MPs of the Bundestag from the Greens, Katja Keul and Filiz Polat, accompanied by the DE Ambassador in Pristina, Christian Heldt. They discussed the overall rule of law situation in Kosovo and the future of the Mission after the end of its current mandate.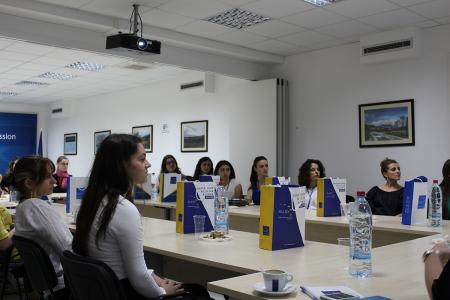 Yesterday, 12 young women from Global Girl Media Kosovo were received in EULEX Headquarters for a study visit. Under the umbrella of Kosova Live...
Gertraud Marx-Leitenberger, Judge in the Special Chambers of the Supreme Court, gave a lecture to more than seventy law students from the University of Prizren.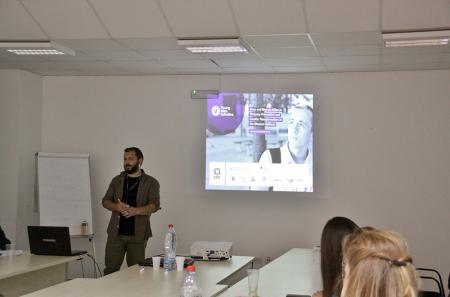 As part of EULEX efforts to raise awareness on gender equality among its staff members, Besnik Leka, project coordinator at Care International Kosovo, was invited to meet with the Gender Focal Points. Mr. Leka, works actively with young men to challenge the traditional gender roles and expectations...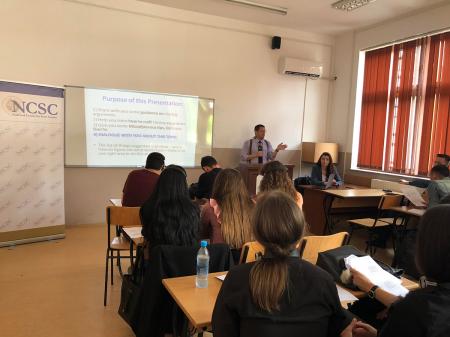 Last week, Drew G. Engel, EULEX Special Prosecutor, conducted a presentation on the topic of 'How to Make and Present an Closing Arguments' to law students at the University in Prizren, in Kosovo.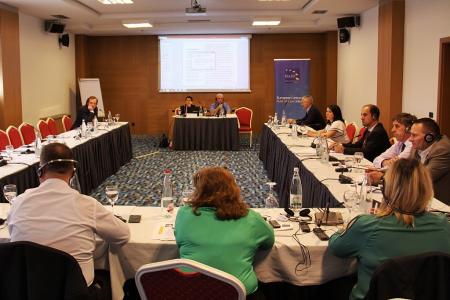 Last week, EULEX hosted a training on 'Evidential issues surrounding the prosecution of terrorism-related offences: analysis of specific cases and sharing of good practices on digital forensics, the use of internet and turning intelligence into evidence'. The two day training was for local prosecutors and judges and was conducted by the trainer...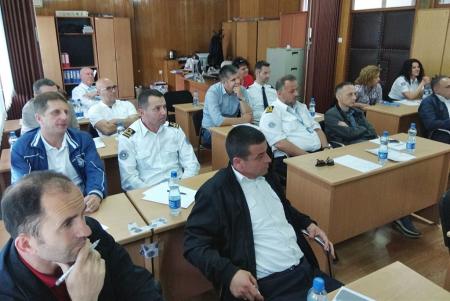 EULEX have organized two separate seminars on 'Combatting Counterfeit and Illicit Spirits' which were delivered to 26 Kosovo Custom Officers. The market for counterfeit spirits is a lucrative business which causes revenue and job losses to legitimate manufacturers. The production of counterfeit products also can and do seriously harm consumers...