Applying human rights in practice - Meet Heidi Lempiö
07 December 2015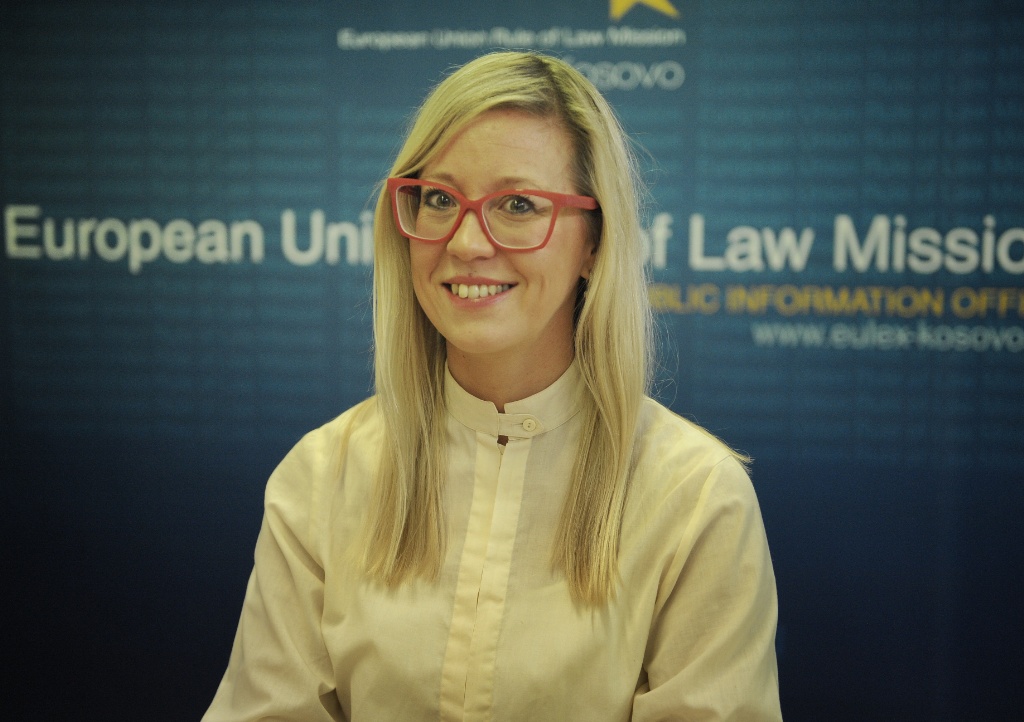 Human Rights are an essential element in the development of a modern legal system. They have also been a connecting theme in Heidi Lempiö's career in law.
Finnish lawyer Heidi Lempiö works as a legal officer at EULEX's human rights and Legal office where her job consists of handling a wide variety of legal issues related to the Mission's work. Heidi's background in law is likewise very diverse. After graduating from the Law Faculty at the University of Helsinki, Heidi conducted a 14 month judge training in the small town of Mikkeli in eastern Finland. Her next assignment was to substitute for a Military Legal Adviser in the Finnish Army command. Heidi found the Legal Department of the military eye opening: "The Legal Department of the Army command dealt with a wide range of legal questions. It encompassed everything from environmental law to principles of international humanitarian law, commercial contracts to the disciplinary and military penal cases, as well as commenting on draft legislations and providing legal trainings to soldiers." She enjoyed working for the military and consequently held similar acting positions for the Finnish Air Force Command and the Border Guard Headquarters.
Heidi has always liked working abroad and she sees herself as a little bit of a nomad. She has lived in various countries, including the Dominican Republic, France and Spain, and she speaks fluent Finnish, English, Spanish and French. Yet, Heidi doesn't like to travel just for the sake of seeing new places. For her, it is important to stay long enough to really know the place and its culture.
In 2011, Heidi got a position as a Finnish Assistant Lawyer at the European Court of Human Rights in Strasbourg. "Moving to Strasbourg to work for the court was like a dream come true for me as I had always been particularly interested both in International and European Law, and especially in Human Rights law." Human Rights have had an important role in Heidi's career from the start as she wrote her Master's thesis on EU Asylum Regulations in the context of International Human Rights Law.
Heidi's focus on human rights stems from her long standing interest in social issues and international development. She holds a strong conviction to protect the rights of the weakest members of society. During her studies and career in law these concerns have become refined into professional expertise on implementing human rights in practice.
Heidi's expertise on military and human rights related legal work eventually led her to EULEX. Heidi came to Kosovo in February of 2014 without much knowledge of the area but with a strong motivation to learn and contribute to the development of Kosovo's rule of law.
Heidi's diverse work at EULEX consists mostly of advising the Mission on legal matters. "We deal with huge variety of different legal issues related to our mandate, our legal status, European best practices, human rights, privileges and immunities of the staff, code of conduct and disciplinary proceedings."
In Heidi's view, one of the fundamental requirements in the development of a functioning rule of law system is that the responsible state institutions adhere to human rights standards in their daily practice. Those standards are relevant both in the quality of laws as well as the application and execution of laws. This more practical side of delivering justice is where Heidi excels at. "I have to say I'm better with practical legal issues than on abstract topics like drafting laws."
In regards to the human rights situation in Kosovo, Heidi remains optimistic. Nevertheless, she points out that there still remains a lot to do, especially in the basic functioning of the legal system. In her view, a legal system that carries it duties efficiently and without bias is the fundamental basis of human rights. The rights of women and minorities is another field in which Heidi sees room for improvement. "Development is slow and probably needs a generation change, but there are small positive steps. As an example, I can point to the recent focus on sexual violence which took place during the conflict and the possible convictions stemming from it."
Another important aspect in the development of human rights is education. Heidi participates in the Monitoring, Mentoring, and Advising (MMA) activities of the EULEX strengthening division by mentoring two legal officers of the Kosovo Prosecutorial and Judicial Council and providing them with trainings. Heidi's experiences at the European Court of Human Rights in Strasbourg have been invaluable in her mentoring tasks as they gave her a thorough understanding on how human right standards should be taken into consideration in terms of legal work.
In general, life in Kosovo has been interesting for Heidi and she has had both positive and negative experiences. She has felt welcomed by local people and she really appreciates their friendliness. On the negative side, Heidi mentions the pollution and trash – which she as nature lover scorns. When Heidi eventually decides to move to other challenges, she will take mostly good memories with her. "Memories of lovely people I have met, beautiful landscapes I have seen, delicious foods I have tasted, but also the many funny images such as of cows eating grass next to EULEX headquarters, cars parked in the roundabouts or vegetable sellers blocking the road with a mountain of cabbage –these images are so unique and peculiar and funny memories of Kosovo!"
Back