Passionate about the rule of Law
26 May 2016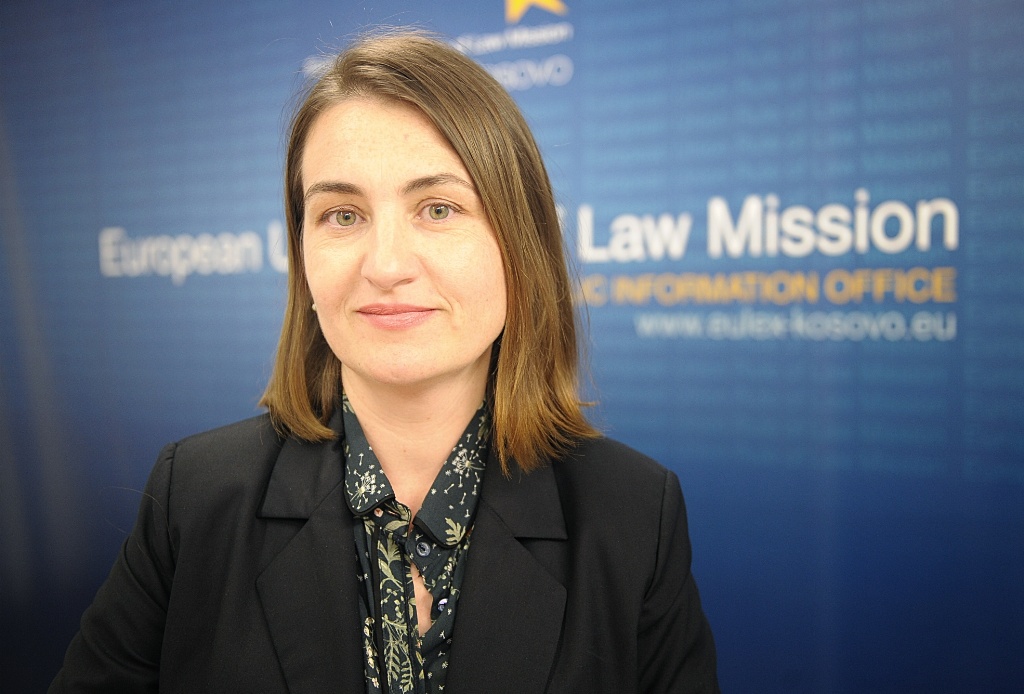 Accountability, liability and determination to work are the exceptional characteristics of Shkelqesa Ibrahimi, who works for the Special Prosecution Office of Kosovo as a legal advisor to the team of international and also local prosecutors dealing in high profile cases.
Shkelqesa started working for the mission seven years ago, providing legal advice on diverse substantive and procedural questions of considerably complex legal matters. She is engaged daily in prosecutorial work, such as reviewing evidence, gathering background information on cases and persons, and offering legal advice to issues that require local expertise on jurisdiction.
Being hired as a local staff member in such a sensitive field of work that requires professionalism, determination, and integrity is not always the easiest thing to do. Mrs Ibrahimi possessing all these competences and carries out her daily tasks but keeps this very sensitive information locked in the office.
Kosovo is a very small country where especially local people all tend know each other in some way or are somehow related, but Mrs Ibrahimi never faced any challenge when delivering her duly assigned tasks. She is very well aware of the sensitivity of her work, hence she is very careful.
"The work that I do stays in office and I switch off everything related to work, the moment I walk out of my office" says Shkelqesa.
Passionate about the rule of law, believing that only the rule of law creates a stable foundation for a functioning country, Shkelqesa has dedicated also many years to her studies. Currently she is continuing her professional development and is a PHD Candidate at the Faculty of Law in Pristina. She is determined that advocating for the rule of law is the most important element of a society. In her everyday life she tries to promote justice, through her own conduct, and acts as an example to raise the public's confidence for rule of law institutions.
Her daily work as a Legal advisor includes dealing with very important criminal cases and extremely complex legal matters. Offering her legal advice to prosecutors is a task which carries enormous responsibilities, but Shkelqesa is very confident and highly appreciates the cooperation with the prosecutors.
Before joining EULEX, Shkelqesa worked as a Legal Officer for the United Nations in Kosovo. Her work with the United Nations was to offer legal advice and background in resolving property disputes. Property issues were and continue to be a very delicate matter in the post-war society of Kosovo. Through mediation and negotiations she helped the Housing and Property Directorate of the United Nations, to solve many property disputes in Kosovo.
In addition, her professional background includes also the process of the appointment and re-appointment of judges and prosecutors in Kosovo. She assisted in evaluating the backgrounds of various prosecutors and judges in the appointment and re-appointment process. This was a very long and challenging process for Kosovo, which equipped Shkelqesa with a wide range of experience, dealing with different communities and ethnic backgrounds.
Throughout her career Shkelqesa worked in various fields of the rule of law, and her expertise is a valuable asset in the building process of Kosovo justice institutions.
With the help of the international community, Kosovo now has justice institutions, yet fragile, but with the help of the international expertise, the future looks bright. Shkelqesa emphasises that she appreciates the work of EULEX prosecutors in Kosovo. With their various experiences from different jurisdictions, their effort to deliver justice is highly valued.
She is a mother of two children, who take most of her free time. Being a full time working mother is not easy, Shkelqesa says, since many times she feels guilty for not being able to fully respond to her children's' needs. Nonetheless, she emphasises that the key to find the balance between work and parenthood, is to plan and focus on that plan.
She chooses to spend every free minute with her children. As her children are growing up, she finds inspiration every day to contribute to the justice system of the country and create a better future for all the children of Kosovo. They deserve the best, Shkelqesa says.
Back