04 April 2018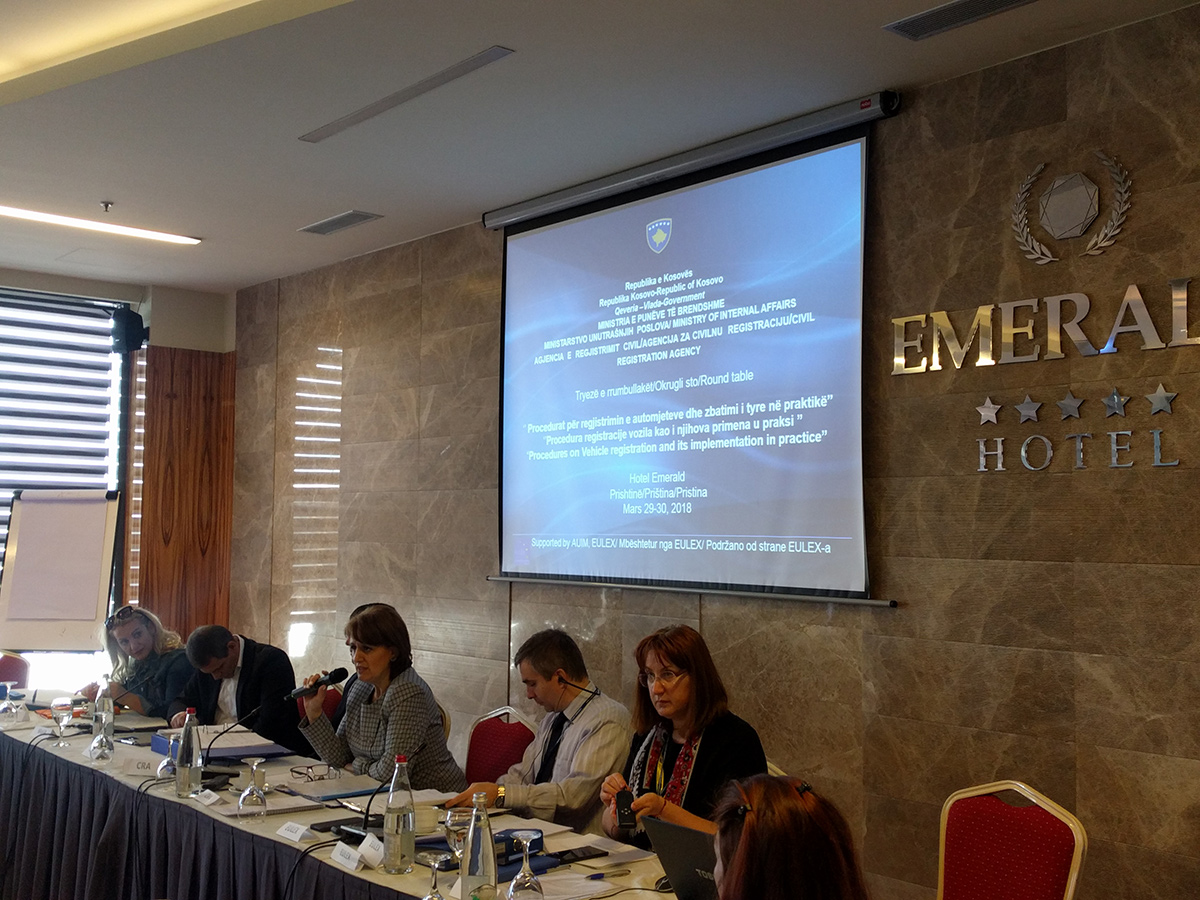 The EULEX mission has organized a round table on the procedures for vehicle registration together with the Kosovo Civil Registration Agency. The two day workshop focused on the implementation in practice of the legislation on vehicles.
The aim of the round table was to discuss in practical terms the implementation of the two Administrative Instructions on vehicle registration and Vehicles with KS plates which have been recently approved by the Ministry of Internal Affairs.
On the panel; Ms. Sebahate Muharremi- Pllana, Director of Vehicle Registration Directorate (VRD), Mr. Xhavit Gubetini, Head of Sector for Vehicle Registration and Ms. Ganimete Sfishta Head of Sector for Support of Vehicle Registration Centres led the discussion, with the support of EULEX representatives from the Advisory Unit on Internal Matters (AUIM).
"EULEX has successfully monitored and advised the implementation of Pristina- Belgrade dialogue, in particular the Freedom of Movement agreement, by providing technical assistance for the Civil Registry Agency and the Ministry of Internal Affairs on local and central level. The goal of the two days discussion on the topic of implementing the Administrative Instructions is to successfully put in practice the signed legislation." Said Mr. Victor Gergely, AUIM.
EULEX and the Kosovo Civil Registration Agency co-facilitated the round table where over the course of the two days, participants coming from all vehicle registration centres of Kosovo, including the centres in the northern municipalities, were given the opportunity to interact with the panel and raise in any concerns.
"The importance of the round table is given by the fact that the participants are the ones who will implement in practice the legislation, asking them to contribute with recommendations and solutions", said Ms. Sebahate Muharremi-Pllana.
EULEX will continue to offer support with the practical implementation of administrative instructions.
Back