Pro-actively Advocating International Law and Human Rights: meet Marianne Fennema
27 September 2016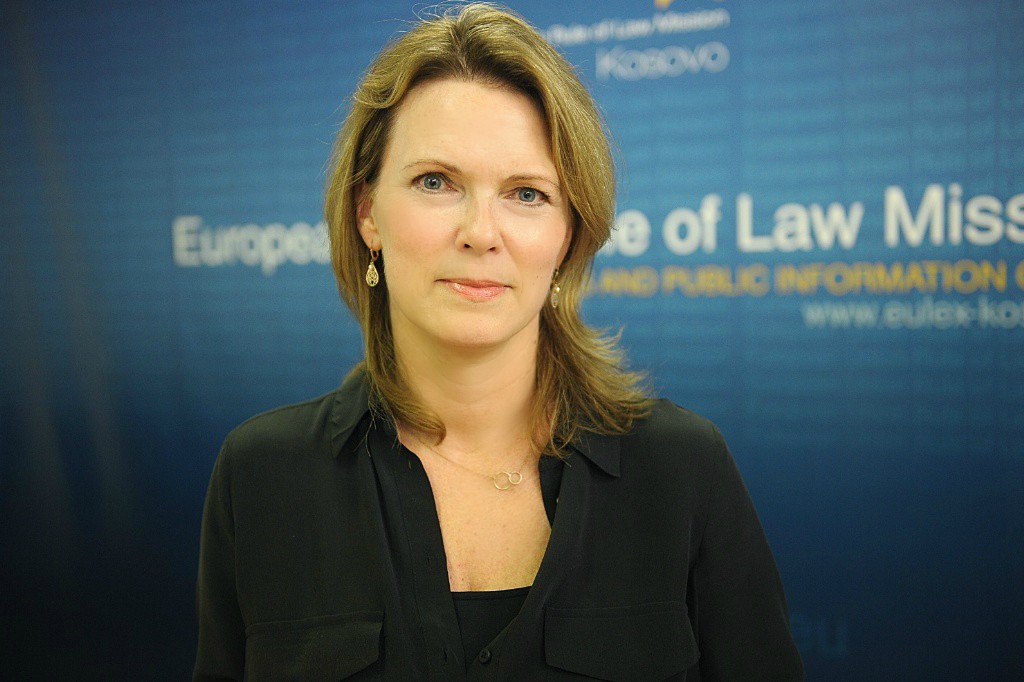 Providing EULEX with legal advice on a daily basis related to various, complex and quite important matters is how a working day looks like for Marianne Fennema.
She leads the Human Rights and Legal Office, HRLO, in the European Rule of Law Mission in Kosovo. The office consists of 13 staff members, who make boundless pool of knowledge essential not only for overseeing, monitoring and implementing human rights and but also for ensuring that legal aspects are observed in the implementation of Mission's mandate and its activities.
Marianne comes from Netherlands. She completed European Studies in Amsterdam and continued with a Masters in International Law in England. She qualified as a Solicitor in London. As a student of Amsterdam University, Marianne became a founding member of AEGEE, a pan-European student organisation focusing on empowering young people in Europe to take an active role in a society. She worked for a while in the organisation's headquarters in Paris.
The office that Marianne leads, is responsible for the legal interpretation of the Mission's mandate to the senior management and the offices of the Mission, as well as ensuring that legal aspects are implemented and taken into the consideration in all changes of the Mission's mandate.
Marianne joined the mission three years ago as a part of the HRLO. But that was not the first time she worked in Kosovo. She was previously here working for the UNMIK Pillar 4 and the International Civilian Office.
When she initially came to Kosovo in September 2004, she already had some experience of the region whilst working with an American media company that was looking for opportunities to set up TV and radio stations in the Balkans. As Marianne points out, she came to Kosovo and "the rest is history".
Marianne started her career as a corporate lawyer in a big City law firm in London. Following qualification, she left private practice to work in the media industry. Whilst representing American media investors, she lived in Ljubljana and Prague. She then moved back to London where she got a job as a lawyer for Walt Disney Television. "I was not a particular Disney fan when I started working there, but it was difficult not to get caught up in Disney magic", she admits.
However, when the time came to change the magic of Walt Disney for more realistic pursuits, she decided to move back to Kosovo, where in her current capacity as the Head of HRLO, Marianne advises the Mission on fundamentals of the rule of law and governance challenges.
HRLO also deals with the Mission's internal justice mechanism. The office provides advice to the Head of Mission on various human rights issues, as well as drafting submissions to the Human Rights and Review Panel that oversees the external accountability of the Mission.
But this is not all that the office does.
"Our office assists the whole mission, both the Strengthening and the Executive division, on how to improve things, so that our actions are in full compliance with international human rights. The human rights compliance has to be mainstreamed in all our tasks" Marianne explains.
Another very important engagement of the office is the legal assistance and interpretation of laws, drafted by the Government of Kosovo. Through its monitors and advisors, the Mission in liaison with the HRLO, drafts, co-drafts, advises and suggests laws and amendments of laws for the Kosovo legislature. So far, the Mission facilitated drafting over 150 laws, administrative instructions and regulations. Special attention is also given to the laws which are related to the mission mandate.
Marianne insists that all these multiple tasks from various operating fields of the mission demand full engagement of the whole office. Team work is of a crucial importance for HRLO's success.
"A lot of work needs to be delegated, but of course I need to advise the staff especially when it comes to sensitive matters. So my daily routine mainly varies between going to meetings, responding to emails, supervising what my staff is preparing and looking at the products to make sure we give good advice" she points out.
The biggest challenge for Kosovo, in Marianne's words, is to change the mind set of people and for the Kosovars to realise that if everyone contributes in their own way, better chance for Kosovo's future can be achieved.
Staying true to her philosophy, Marianne is also making a change for Kosovo in her personal capacity as a volunteer for the charity, Care for Kosovo Kids. This NGO provides medicine to young patients at the haematology-oncology ward of the University Hospital in Pristina. This charity was set up a couple of years ago by a Dutch business woman whom Marianne met by accident on a plane back to Amsterdam. The woman found out about the difficult situation of Kosovo children who are cancer patients and whose parents cannot afford the medication. Through an influential advisory board in the Netherlands, the funds are being raised to help these children in need. The charity is very active providing patient care and instrumental in continuous support to Kosovo's children suffering from cancer.
Privately Marianne enjoys spending time with her 10 year old daughter, Isabelle, who goes to an international school in Pristina. On weekends they mostly go hiking in Rugova and Brod, enjoying Kosovo's beautiful nature, people and local traditions. Marianne concludes proudly: "I'm Isabelle's idol. She loves what I do. Especially when it comes to advocating human rights"


Back