Silke Sielaff – You don't have to ask for permission
13 April 2016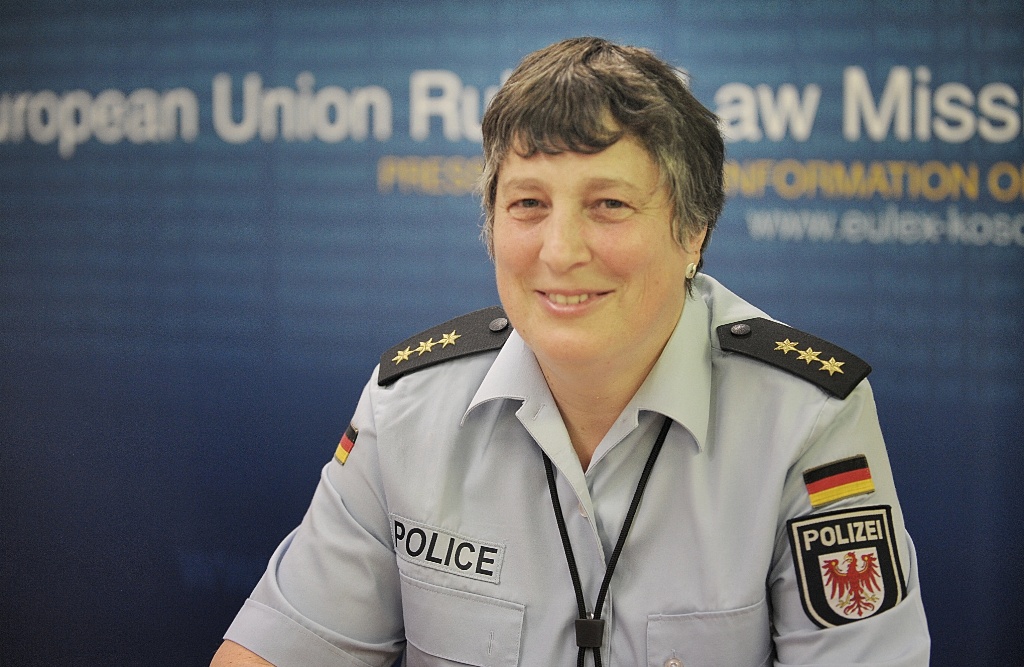 Meet Silke Sielaff, a German Police Officer and the Chief of the EULEX Joint Operations Room (JOR); whose job it is to coordinate, inform and safeguard all EULEX staff wherever they are in Kosovo. Her approachable and warm personality, along with her dedication and professionalism to her work make her a key asset to this mission.
Silke began her career in the Police in 1995 in Brandenburg, Germany after graduating with a Law Degree from the University of Heidelberg, having wanted to join the Police from a very young age. "Well actually to be honest it was my childhood dream, when I was ten or so I said I wanted to be a police officer" In Germany it is an exception when law graduates join the Police; however Silke managed to secure a 'fast track' promotion through her degree and immediately joined the Police at a senior level, working for the Central Services for the State Police of Brandenburg.
She explains the reason she came to Kosovo was to share her experience of working in a country going through a transition – after joining the Police in the early 90's in Eastern Germany, she knows what it's like to work in a society going through development and reform, "I am familiar with the process, and I can empathise that the people are going through a transition phase and so I thought it would be interesting to share this experience in Kosovo and to be a very small part of change in this country."
Her first impressions of Kosovo, other than the chaotic traffic, was that the people in Kosovo are very different to Germans, in that they are far more open, and especially willing to talk to foreigners, "even if you don't speak the language it's not a problem to get in touch because people here are very open and very warm; maybe it's just because I'm a German!"
Her biggest success so far has been to turn the JOR into a functional and integral part of the EULEX mission, which was a newly formed department in late 2014; it serves the purpose of a central information hub for all EULEX staff. "JOR was formed as a lesson learnt that it is essential to have one information hub in the mission and not multiple and so that is why JOR was formed."
The JOR serves three main functions, it serves as the central information hub and distributes necessary classified or sensitive information as well as open sources information to the relevant departments, it monitors and controls all radio traffic between staff during day to day tasks and in operations where EULEX executes its executive mandate, and lastly they are responsible for tracking the movement of all EULEX staff in the North of Kosovo and will be able to send assistance should these staff members need it. With 32 staff members they function 24/7 and are available whenever required.
Silke described how the JOR works as the main coordinator of all EULEX units during operations or if EULEX is called as the second responder at the request of the Kosovo Police, collecting all this information and reporting back to Brussels. The JOR will ensure that everyone involved knows exactly what's going on, "we also inform KFOR as a third responder so they have the same information we have in case they are needed" Silke's personal duties are to her staff and to ensure the proper procedures are in place so in the case of an emergency or big operation, they will be able to react as soon as possible.
Being a woman with a long career in the rule of law, Silke explained what young women who want a similar career path should do. "First of all just try it. You will work in an environment with a lot of male colleagues but trust yourself, trust your feelings, and even if you have disappointments in your career, don't stop, persevere and you will be successful, you are not inferior to your male colleagues" for this reason Silke believes it's very important to have women serving in senior roles as they can offer a different perspective, a new way of thinking, which she can personally attest to, during her time as a senior police officer.
When directly addressing Kosovo women, Silke advised that women here should try to break away from traditional patriarchal roles, where gender equality should not just be in the work place but in the family too, "women should not be limited to one role, you can be a mother with a career and it's not the decision of the male in the family to choose for you; do what makes you personally happy, you don't have ask for permission" She claims that when Kosovo makes this change, it will be well on the way to becoming a modern European society.
Back