Katrin Gluic - It is in everyone's interest to fight organized crime and corruption
01 February 2016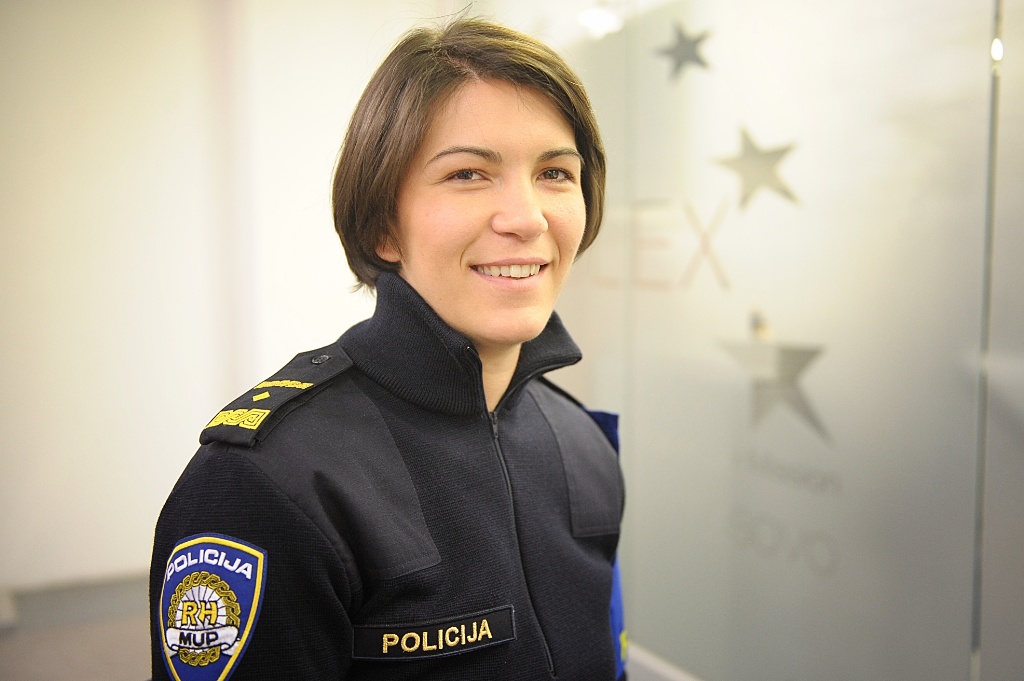 When she was just a little girl growing up in Croatia, people often asked her what would she wanted to be when she grows up. Without hesitation in her mind, she would answer: "I want to be a police officer", so she pursued her childhood dream. Katrin comes from Croatia, where she graduated from the Police Academy where she also acquired her Master's degree. She is currently pursuing her postgraduate studies in Criminal Science at the Faculty of Law of the University of Zagreb.
"Investing in knowledge is always a good thing. It is good to broaden your horizons to capture new areas of expertise and to keep track of how things evolve. Specifically, a detailed knowledge of the criminal procedure law helps investigate different cases", she adds.
When she started off, police patrolling was one of her first duties. From there, she made her way to criminal investigations at a police precinct. She handled homicide, juvenile delinquency, and domestic violence cases, to number just a few. At the Ministry of the Interior, she was involved in the European integration and international relations activities, including EU accession negotiation and alignment with the acquis communautaire.
"Croatia was just about to join the European Union, and this was a part of our European integration duties. Apart from that, I have been a member of the Organized Crime Unit team, within National Police Office for Suppression of Corruption and Organized Crime, tasked with investigating organized crime and corruption at the national and international levels.
Katrin Gluic is now a serious crime investigation officer with EULEX's Organized Crime Investigation Unit. The main tasks of this unit are to investigate organized crime and high level corruption. As a part of this team, Katrin investigates all aspects of organized crime, including corruption, misuse of official power, illicit drugs, weapons, etc.
"The work back home is similar to the work I do here in Kosovo. The criminal procedure is similar to one in Croatia, and that helps me a lot", she points out.
Currently, there are about 40 investigators in the Organized Crime Investigation Unit who work closely with their Kosovo Police colleagues to tackle serious crimes. Many of these cases are being run as joint investigations. These investigations consist of a team of KP and EULEX investigators who share information and work together under the direction of an SPRK Prosecutor.
"It is important that we are guided by the Prosecutor, particularly when it comes to the way of gathering evidence to support criminal investigations. We make a good team together with the prosecutors, and it makes us really happy and proud when we see media coverage of an indictment or a verdict in a joint case", says Katrin.
EULEX and Kosovo Police teams have worked together on several high profile arrests of organized crime suspects for murder, corruption, drug trafficking. Some of these cases were of international nature as well, involving several concurrent arrests throughout Europe.
According to Katrin, EULEX is putting tremendous effort in its work. "When it comes to investigations in particular, an undivided support from the local rule of law institutions is of paramount importance", she says, pointing out that the fight against organized crime and corruption is in everyone's interest.
Katrin in convinced that the work of EULEX and Kosovo's rule of law institutions will benefit the future generations of Kosovo. "Sometimes, there is criticism that the process is too slow. However, I believe that we are experiencing a gradual and very positive process whereby EULEX officers are demonstrating good European practices. They are helping mainstream the Kosovo institutions, empowering and emboldening judges and law enforcement officers. We hope to leave behind a positive legacy that will allow local institutions to go forward with confidence and transparency," she concludes.
Back