Police work is all about being part of the community - Meet Maria van der Hart
22 September 2015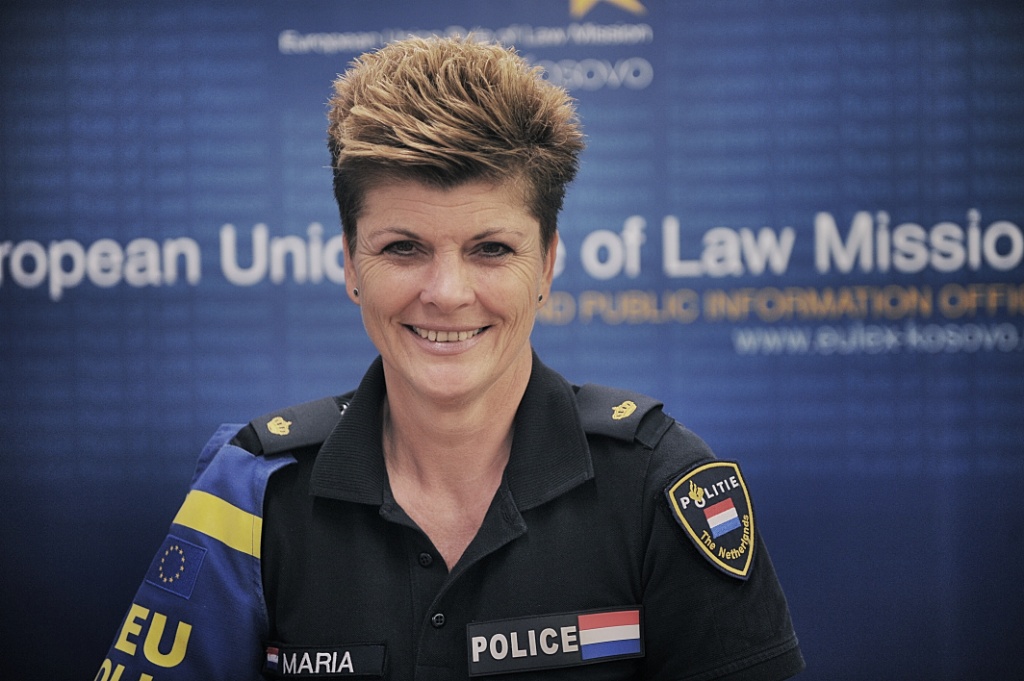 Socialising and being part of the community are essential features of police work for Maria van der Hart. Working for EULEX has provided her ample opportunities to carry out this principle in practice.
Maria, a captain in the Dutch police, has more than 30 years of experience in law enforcement. During her extensive career, she has experienced different aspects of police work, ranging from community policing to investigating international organized crime. In addition to her current work, throughout the past three years Maria has been working on investigating the financial side of criminal activity. Most notably, in cooperation with the Dutch justice department, she established a team that focuses on following money trails of the proceeds derived from crime in order to more effectively conduct criminal investigations and gather evidence against the accused.
After spending a period of time as the team leader for international investigations in a Dutch organized crime unit, Maria felt it was time to seek new challenges. "I always wanted to go to a mission but you have to be ready for it with your personal life and your working life. It has to be a moment when you can say: Now I go!"
Maria has a longstanding relation with the Balkans; she has enjoyed her holidays there since her teenage years. She has also visited Bosnia on work assignments, which eventually got her interested to become part of a mission in the Balkans. When Maria started to work as mobile advisor for the EULEX police strengthening department in October 2014, it was her first visit Kosovo. She worked in Gjilan/Gnjilane for the first nine months, and then continued in Pristina.
As a mobile advisor, Maria collaborates with her counterparts in Kosovo Police on various themes. Her experience has thus far been a positive one. "Kosovo police is a professional organisation and like every organization it grows throughout the years. It's the same in my country." Maria has also been very fond of Kosovo in general. "The people here are very open and friendly." She appreciates how Kosovo offers countless opportunities to enjoy your free time such as hiking and seeing more of the country and its cultures.
From the beginning, Maria has focused on gender issues in her work. She quickly became acquainted with the Association of Women in Kosovo Police. Maria has worked closely with them and has had a keen understanding of their issues having remembered the difficulties women can face in the police force while she was in the Netherlands. "It is important to have more women in decision making positions within the Kosovo Police. That is my focus in working with them."
Maria is a gender focal point in her unit, meaning she is the person responsible for gender mainstreaming. Maria emphasizes how gender mainstreaming is not only about women's rights but about equality in general. "You need both women and men to have a good, healthy police force. It's the same as with age. You have to have a mix of people. You learn that when you complete your leadership training. You'll have different people and different characters. You need to have people who are a little bit critical and not always say yes to everything."
With regards to gender issues, Maria has been working on domestic violence. Together with Nicola Brassil, an expert on gender issues, she compiled and wrote a thorough report on domestic violence which assesses the current situation and gives recommendations to Kosovo legal institutions. Maria particularly emphasizes the efficient co-operation with the Kosovo police and the judiciary in formulating recommendations that were used in the report. EULEX also facilitated a two-day "Police and Prosecutor Response to Domestic Violence in Kosovo" workshop in which Maria and Nicole presented their report. The workshop was opened by the Head of Mission, Mr. Gabriele Meucci, and attended by the Deputy Minister of Justice, Mr. Lirak Çelaj, who applauded the project and emphasized its importance. For Maria, it is such instances that have her cherish her work. "This is something I wanted to achieve: Take small steps in helping protect victims of domestic violence and other such crimes."
Maria evidently likes working and socializing with people. "It is important to talk with people and be a part of the community, talk about their problems, and discover the things that motivate them." This is particularly evident in her work as a police officer. "In the end, everybody wants the same thing – to have a community. You want to protect and serve your community. It is not a normal nine to five job."
One example of the community work Maria so keenly talks about is her participation in the work done by a Pejë/Peć based NGO called Hands of Mercy. She enthusiastically describes the work of Hands of Mercy and how it supports the education and schooling of children and takes care of those in need. Inspired by their work, Maria and the Dutch community have been supporting various Hands of Mercy projects, such as donating school bags to children in need. Being able to participate in these kinds of meaningful social projects is a major reason why Maria enjoys working in Kosovo.
Support from colleagues from different countries and backgrounds is what Maria appreciates most at EULEX. "You have to be very fortunate to have a team like this one. You are not alone, everybody is helping everybody. It's really true teamwork. It's the nicest thing to work in a team with a lot of different nationalities and learn from each other, but also be there for each other when needed." It is also the teamwork aspect of her work that has taught Maria her most valuable lessons while living in Kosovo. "I have learned that I can work everywhere. You can achieve small steps if you are open and willing to really communicate with people and your counterparts. You need to have respect and trust to achieve desired goals. It is not only about yourself, everybody contributes to a bigger whole."
Back