A Woman in Uniform making a difference
08 March 2016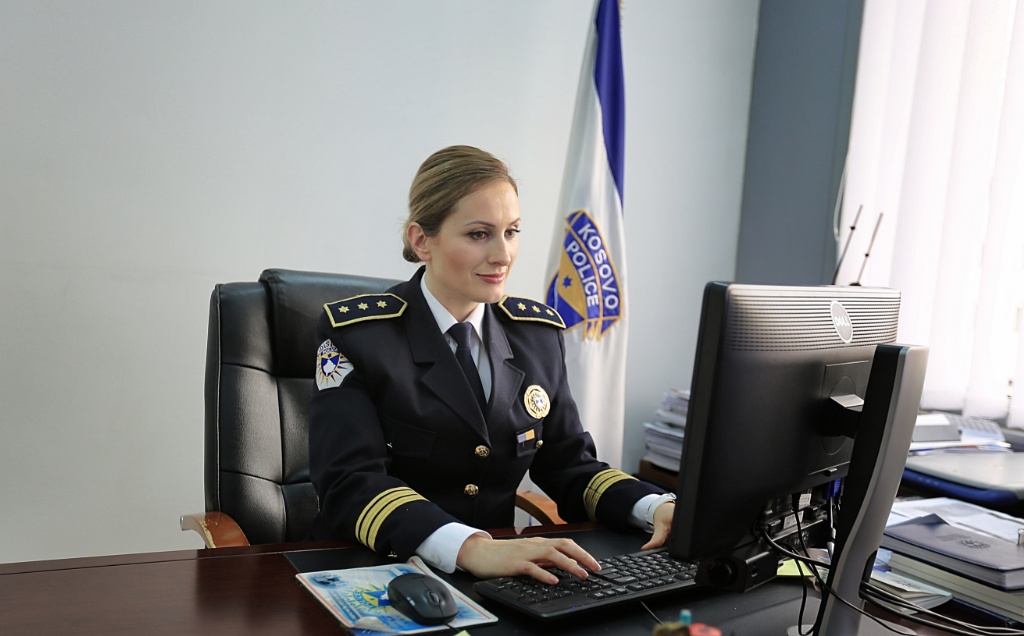 Meet a pioneering woman who commands police officers and enjoys their respect. Colonel Taibe Canolli is the first Kosovo woman to hold the highest rank in the police. She is an inspiration for generations of young Kosovar women striving to achieve greater equality in Kosovo's rule of law institutions.
Colonel Canolli is also well known for her work as a founding member of the Association of Women in the Kosovo Police. Her work over the last two years has been to promote the empowerment of women working with the Kosovo Police.
Her ambition to join the Police began from a very young age. "To be honest, I had always wanted a career in the police, but due to the circumstances at the time, that could not be possible." She points out
According to Canolli, the political situation in her youth convinced her that her dream could never be fulfilled. Nevertheless, she focused on the field of justice, studying law and graduating in 1998 just before the war. However her ambition to study for the Master's degree was put on hold. Yet, the childhood dream was back on track when new Kosovo Police force was established in the aftermath of conflict in Kosovo.
"My desire returned to work in this field, since I had the qualifications which would make me a better-rounded individual who could contribute to the rule of law. As soon as the application opportunities were opened, I applied and joined the police academy as the third generation of police in Kosovo"
A highlight of her career in the police has been her unique position as a woman and leader from the very beginning.
"I was the first female to command a police station; particularly this one in Pristina city center which is considered the largest police station in Kosovo"
Being a Colonel in the Kosovo Police is the highest position a police officer can achieve, "The fact that I am a woman and Colonel in the police is a unique feeling, it's a privilege since it's a position which is not given to many women", she says.
She explains that a reason behind her success is hard work, ambition and support from her family and friends.
With a woman in her position, one has to wonder how she manages her personal life with her career, being a mother, wife and Colonel, seems like quite a handful.
"I try to split my work life from my personal life as much as possible, and spend as much time as I can with my son, my partner, but naturally there are interferences," she points out. Nonetheless she stresses that the key to juggling her career and family is all down to careful time management and support from the family which is essential to enable her to focus on her job and perform her duties to the best of her ability.
The Colonel's involvement with the Association of Women in the Kosovo Police (AWKP) has been primarily to empower women in the Police and make gender balance an integral part of its success. "Women have shown their value, from administrative to operational positions." she maintains. The AWKP was formed in November 2013 with the goal of strengthening women's roles in Kosovo Police, "We wanted to make sure that female candidates have all the right professional qualities for the job and to increase the image and reputation of women in the Police, and to break prejudicial and stereotypical attitudes, in a role which is typically considered a male dominated career"
After just over two years, an association which had started out with just a handful of members now boasts over 600 male and female members from all ethnic backgrounds with a legal foundation in the Police policy , working to empower women in the force. "Our Operational Strategy is based on a document which outlines our three year program that we use as the basis of our work and continued development, which will allow a higher inclusion of women in this institution. I'm proud to say that after two years we have achieved 90% of our original objectives that we set out as an organisation"
The AWKP hasn't just focused on improving gender equality in Kosovo's police but has set its sights much higher goals, "I can say that our association is the only one of its kind in south east Europe which is not only good for Kosovo but also for regional security because our model and our expertise can be adopted by other countries in the region," explains Canolli.
The AWKP has received international support, from International NGO's such as UN women, United Nations Agency for Gender Equality and Empowerment of Women as well as many local and international organizations. To date the AWKP has trained over 380 women in different training programs. The AWKP was the key implementing partner of the joint inter-ministerial project" Women in Uniform' that aimed to increase the profile of women that are engaged within law implementing agencies in Kosovo's security sector.
"We also receive support and have great cooperation with OSCE Mission in Kosovo, Norwegian Embassy, American Embassy and some other foreign offices in Kosovo, CIVIKOS Platform NGO, Parliamentary Commission for Security, Internal Affairs and Oversight of Kosovo Security Force, Kosovo Assembly Women's Caucus group, together with them we work to push forward the women's agenda."
Their work also has a regional dimension; inspiring regional countries such as Albania and Macedonia to try and implement similar projects.
Currently, the number of Women that work in various posts within Kosovo police force is around 14 percent. According to Colonel Canolli, her plans are even more ambitious. "We aim to increase their number in the near future. Women have shown to be very effective in this role and this has already helped in improving and increasing the reputation and the image of the Kosovo Police in general.
The AWKP have had a successful collaboration with EULEX she says, "We had support in regards to creating necessary documents, different strategic implementations. We benefited from some training and advice on the best course of action for creation and effectiveness of the Association", she points out.
For that reason, the Colonel is especially grateful to EULEX. "I want to personally thank EULEX for their support, which they gave to Kosovo Police and to our society. Since the beginning of the EULEX mission we have worked closely together. Our partnership is healthy and set to continue".
To conclude, the Colonel's message for women working in the police force is: "Be committed in fulfilling your duties and responsibilities, stand for your rights and your professional development and advancement. Altogether, this will reflect in the future in empowering your role and the image of the organization".
Back