Today, Ms. Alexandra Papadopoulou met with Kosovo President, Hashim Thaçi, her first official meeting in her capacity as the head of the European Union's Rule of Law Mission in Kosovo (EULEX).
"I had an excellent first meeting with President Thaçi. We reinforced our joint commitment to pull together our expertise and resources in order to support the Rule of Law. The new mandate starts a new chapter for EULEX and Kosovo. We will all continue to work in even closer partnership with our partners in the European Union and the international community," said Ms. Papadopoulou.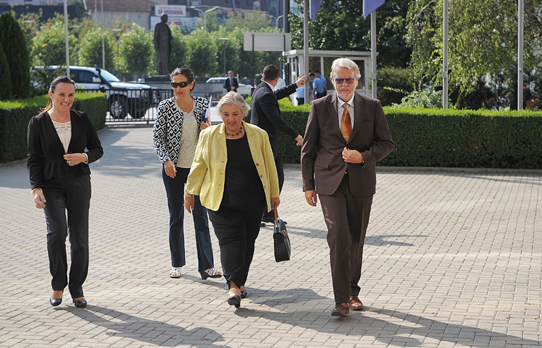 The Head of Mission and President Thaçi discussed issues of mutual interest, in particular fighting political interference in the judiciary.
Ms. Papadopoulou, a senior Greek diplomat with extensive experience in the Balkans, has previously served in Kosovo as the Head of the Greek Liaison Office in 2000. Her most recent appointments include serving as the Permanent Representative of Greece to the European Union in Brussels, as well as Director General for EU Affairs in the Greek Foreign Ministry during Greece's 2014 Presidency of the EU. Additionally, Ms. Papadopoulou has served as the Deputy Permanent Representative of Greece to the United Nations, as well as the Head of the Greek Liaison Office in Skopje for over five years.