20. decembar 2011. god.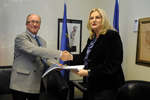 "This is a good example of EULEX involvement in the implementation of all agreements reached through the Dialogue between Pristina and Belgrade facilitated by Brussels. A lot remains to be done but the process is now moving forward and EULEX encourages both sides to continue, convinced about the positive outcome", said Deputy Head of EULEX Andy Sparkes.
A reliable Civil Status is of crucial importance for ordinary people as it provides them with legal certainty. The Civil Status contains all relevant information on the different stages of life of a person such as the birth, marriage, or death. This is just the start of the process. There are more than fourteen thousand original registry books that will be scanned, copied and certified.

Natrag