More from Multimedia ...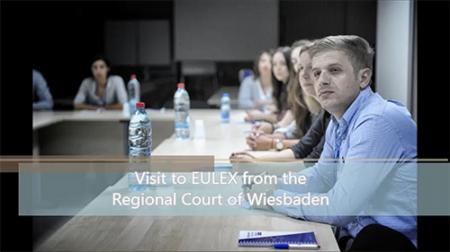 Today, EULEX welcomed trainee lawyers working for the Regional Court of Wiesbaden.
Yesterday, EULEX Head of Mission Ms. Alexandra Papadopoulou met with the Minister of Foreign Affairs of Finland, Mr. Timo Soini.
Ms. Papadopoulou exchanged views with the Minister on the current situation in Kosovo and provided an overview of the Mission's mandate and its efforts to help strengthen rule of law institutions in Kosovo. She also thanked the Minister for Finland's valuable contribution to EULEX.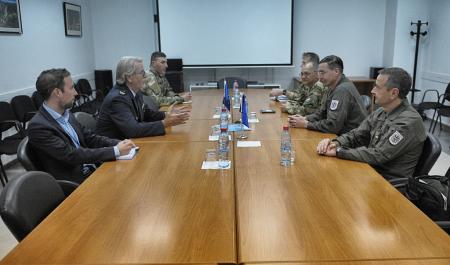 Today, the EULEX Deputy Head of Mission, Bernd Thran met with the incoming DCOMKFOR, Brigadier General Janos Csombok, who was officially introduced by the outgoing DCOMKFOR, Brigadier General Christian Riener.
Mr Thran firstly thanked Brig. Gen. Riener for the excellent cooperation, coordination and information sharing throughout his deployment to Kosovo, which Brig. Gen. Riener underlined had been essential to the situational awareness of both organisations.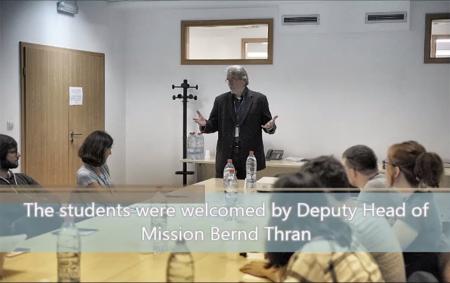 Today, 28 September, students from the Institute of European Studies from the Chemnitz Technical University visited the EULEX Mission as part of their study visit to Kosovo.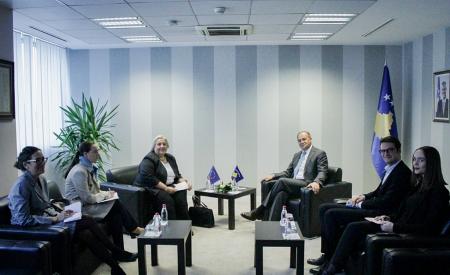 The Head of Rule of Law Mission in Kosovo (EULEX), Ms. Alexandra Papadopoulou, in continuity with her meetings with local and international partners in Kosovo, met today the Deputy Prime Minister Enver Hoxhaj. Ms. Papadopoulou congratulated Mr. Hoxhaj on his new appointment, highlighting the importance of continued cooperation between EULEX and Kosovo institutions in the rule of law area. During the meeting, Head of Mission emphasised the significance of the Kosovo institutions' commitment regarding the remaining crucial rule of law challenges for Kosovo.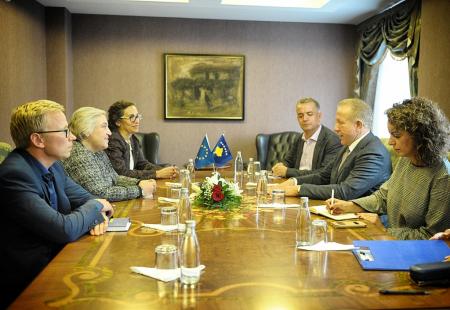 The Head of Rule of Law Mission in Kosovo (EULEX), Alexandra Papadopoulou, met today with the new Minister of Foreign Affairs and Deputy Prime Minister of Kosovo, Mr. Behgjet Pacolli.
The Head of EULEX congratulated Mr. Pacolli for his new position emphasizing the importance of a continuing partnership between the Kosovo institutions and EULEX in the rule of law area which is crucial for Kosovo.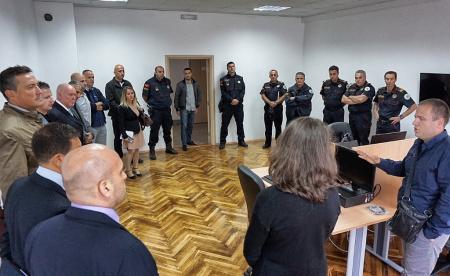 EULEX IBM Advisor Alan Wilson participated in a two-day seminar focused on "Best Practices Exchange" for the development of the Trilateral Police Cooperation Centre in Plav- Montenegro. The event was held in Podgorica and Plav on September 19 and 20, sponsored by US Department of State Export Control and Related Border Security Programme (EXBS), in partnership with IPA 2013 Western Balkans Project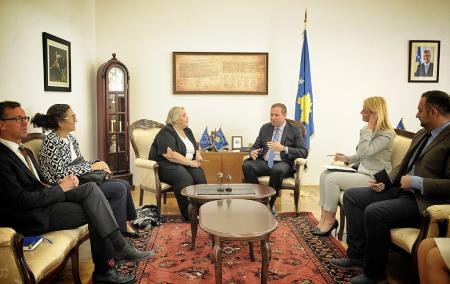 The EU Rule of Law Mission in Kosovo (EULEX) Head Alexandra Papadopoulou met with the new Kosovo Minister of Internal Affair Flamur Sefaj. Papadopoulou emphasized continued cooperation between the Mission and Ministry of Internal Affairs (MoIA) in strengthening rule of law institutions in Kosovo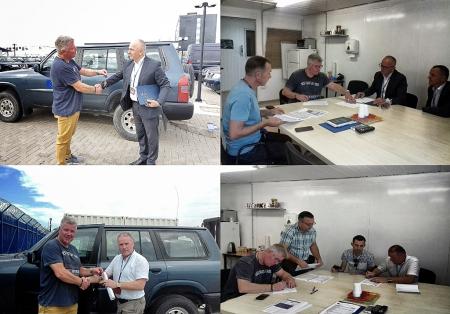 EULEX has handed over two vehicles to the Office of Prime Minister of Kosovo and two vehicles to the Institute for Monuments Protection as a donation for these institutions. EULEX has a long tradition of donating vehicles and other equipment to Kosovo institutions in support of capacity-building initiatives and implementation of best practices.