More from Multimedia ...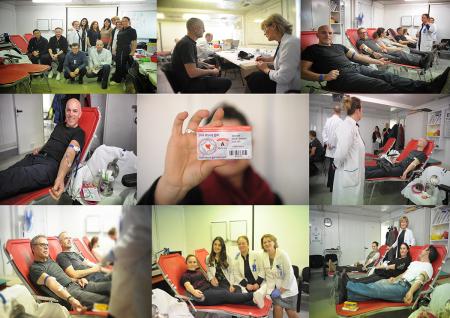 In response to the short supply of blood at the Blood Transfusion Centre of Kosovo, the EULEX Medical Unit organised a voluntary blood donation campaign on 7 December. Around 50 EULEX staff members responded to the call. The EULEX Medical Unit, in close coordination with the Blood Transfusion Centre, organises blood donation campaigns at least twice a year.
Yesterday, EULEX police experts made a presentation to Kosovo Police regarding effective tactical approaches in dealing with dynamic and escalating life threatening incidents.

Quick police action in such circumstances are essential in preventing the loss of life and the protection of citizens. EULEX's presentation to KP focused on new and evolving tactics when dealing with AMOK situations. AMOK situations are extraordinary security incidents of sudden mass assault against people or objects a single or multiple individuals...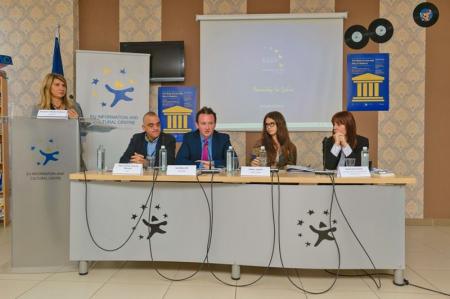 On 22 November 2017, EULEX's Ian Bancroft and Dragana Nikolic-Solomon participated in a panel discussion in Mitrovica North on the Rule of Law and Why it Matters, organized by the EU Info Centre. The discussion addressed concerns about the Rule of Law encountered in the daily lives of citizens.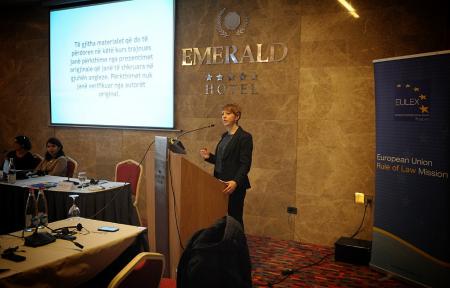 Whilst the mission naturally focusses greatly on being politically correct, it must also remember the importance of being legally correct. The EULEX mission staff includes many legal experts working within the numerous pillars of the justice system. To emphasize the importance of being accurate and precise in legal writing, a EULEX prosecution Legal Officer, Natalie Dawson, devised a programme for Kosovo Prosecution legal officers and professional associates, teaming up with two experts from the International Criminal Court, to deliver training to enhance the capacity of these key professionals to take on a greater amount of legal drafting, delegated by Prosecutors. This is intended to make life easier for both parties – legal officers get greater expertise in their daily tasks, and the Prosecutors get more time in the court room.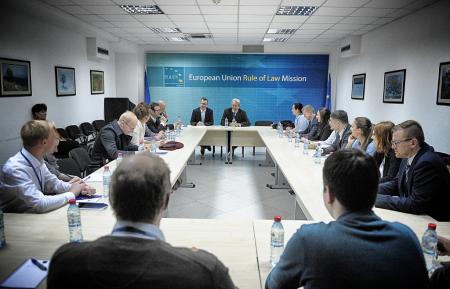 Yesterday, a group of twenty members of the Youth Union of the CDU from Oberfranken visited EULEX Headquarters in Pristina.
They were welcomed by Deputy Head of Mission, Bernd Thran and Gunnar Eichholz from Political Office who briefed the group about the EULEX mandate, its successes, challenges and its role within the wider EU presence in Kosovo.
The presentation was followed by a lively discussion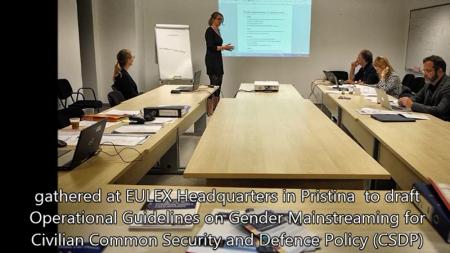 Gender Advisers from different CSDP Missions, EULEX Kosovo, EUMM Georgia, EUAM Ukraine, EUPOL COPPS and Rule of Law Adviser and GHR focal point from Civilian Planning and Conduct Capability (CPCC) have gathered at EULEX Headquarters in Pristina to draft Operational Guidelines on Gender Mainstreaming for Civilian Common Security and Defence Policy (CSDP)missions.
The workshop is led by Civilian Planning and Conduct Capability (CPCC), and the aim is to provide more operational guidance to missions on how they can implement EU Gender policy and include a gender perspective into their operations.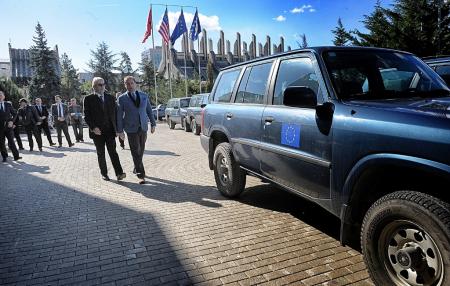 Yesterday, EULEX handed over 30 vehicles to Ministry of Internal Affairs. The donations went to the Kosovo Police Inspectorate, Civil Registry Agency, Department of Citizenship, Asylum and Migration and the Department for Public Safety.
The donation ceremony was held at the premises of the Ministry of Internal Affairs in Pristina and attended by EULEX Deputy Head of Mission Bernd Thran and the Minister of Internal Affairs Flamur Sefaj.
EULEX has a long tradition of donating vehicles and other equipment to Kosovo institutions in support of capacity-building initiatives and implementation of best practices.