Working together to achieve results – Meet Barbora Kacikova
26 October 2015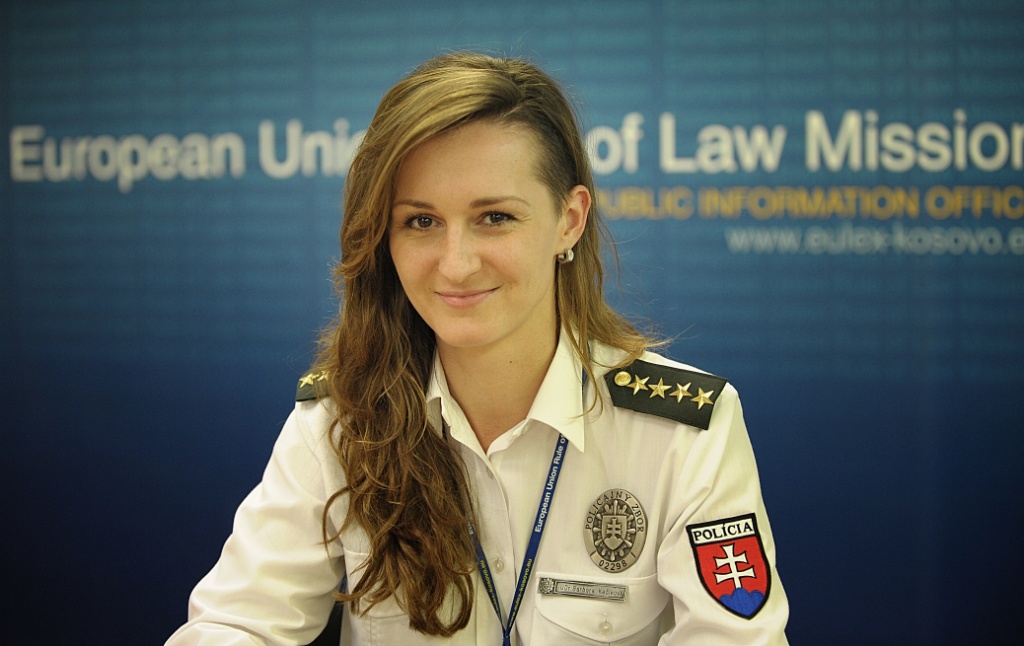 A considerable part of EULEX's work involves facilitating co-operation between people working in law enforcement who come from different national and cultural backgrounds. Barbora Kacikova, a Slovakian police officer, has already acquired a lot of experience on this field despite her young age.

Barbora comes from a little town in north-west Slovakia. After completing a master's degree in investigations, she joined the Slovakian police to work as a criminal intelligence officer. She later returned to academics and eventually completed a doctor's degree in law enforcement. At a later stage, she started working in the border police headquarters in Slovakia.
Barbora always strove to work in the field of international co-operation, particularly among EU-member states. The decision to specialize in border policing was an obvious choice for her. "If you are working in the border police it's absolutely necessary to co-operate because in the EU we are free to move without the necessity to undergo border checks at the internal borders; we apply border controls only at external Schengen borders. We all follow the same standards and fulfil certain common requirements." For four years Barbora worked with the Frontex agency (European Agency for the Management of Operational Co-operation at the External Borders of the Member States of the European Union) and gained a thorough understanding of the international coordination required to maintain border management in the Schengen area. "I collaborated a lot with colleagues from all over Europe and I really enjoyed that time," Barbora recalls of the experiences that prepared her for her role at EULEX.
Barbora arrived to Kosovo in 2013 to join EULEX's Monitoring, Mentoring and Advising (MMA) unit. Her MMA role was with Kosovo Border Police and Customs at the four eastern joint crossing points with Serbia. Working at the borders provided her with a sense of reality as to what takes place on the ground. Barbora explains how it is the task of MMA officers to liaise with all relevant parties at the border, including Serbian police and customs officers. This enables MMA officers to have a clear picture of the situation at the operational level. "You facilitate co-operation between responsible parties and advise local counterparts accordingly. You have to be proactive and have very good negotiation skills." With no executive powers, Barbora's tasks differ from her previous assignments as her work at Kosovo's borders essentially focuses on facilitating co-operation. "This is my first mission. I view the mission mandate like a puzzle. Everyone's work is a piece; maximum co-operation is needed to accomplish the mission. It is thus crucial to be co-operative."
On a personal level, Barbora admits that she has an adventurous side. The desire to experience the world firsthand seems to be a driving motive behind many of her efforts. For example, becoming a police officer and eventually working for the mission in Kosovo. Barbora has always been interested in the Balkans, and in particular the relationships between Balkan countries following conflict. "I wanted to see and feel the reality of Kosovo, what ordinary life is like and how people are affected by the political situation. Additionally, I wanted to know how such a situation impacts law enforcement and border management when two sides view the same crossing point differently – for one side it is a border for the other an administrative boundary. It was a great opportunity to experience working in the field of border management beyond external Schengen borders where the stories of immigrants start. Watching news or reading border police risk analyses gives you a certain view but you gain a better understanding by being there in person."
In 2014, when Barbora's unit was considerably downsized, she was promoted to the position of team leader. The new position brought Barbora new challenges and taught her a lot about working with different people in a multicultural environment. "I find it challenging but also interesting to work with such a wide spectrum of people. It takes time to understand each other, but I'm glad to have the opportunity of being the leader of the team here. If I was performing this task at home it would be just my country fellows."
Being a young woman has also provided Barbora with additional challenges as team leader. "It was a big step to move to a leadership position as I'm one of the youngest members of our unit. Of course, I respect the older colleagues, not only because of their age, but because of their years of experience. I have to respect them, but they also have to respect me. You cannot always please everybody, but I have always tried to be as fair as possible and to make people feel comfortable and motivated at work." According to Barbora, determination is crucial for a leader in this respect. "You have to have the right mindset. You have certain responsibilities. Your age or gender doesn't matter, you have to be resolute and then everything goes."
Despite the fact that her work now consists of mostly managerial tasks, Barbora occasionally works on the ground as she is still also an active member of the mobile field unit. This enables Barbora to base her executive decisions on firsthand experience. One of the subjects she focuses on is gender mainstreaming and she ensures that the MMA activities of her unit always take a gender perspective into consideration. In Barbora's view it is also important to lead by example. "It is good that we have enough females in our unit, especially at the operational level. It is very important that we are seen by the local population and not just by police officers. Some local people have told me that seeing women in our posts has shown them that women can work in important positions in the police. We are showing them that it is possible."
In addition to the novelty of her work tasks, moving to Kosovo was also a major personal change for Barbora. It was her first time living in a foreign country. "It has been an unforgettable life experience which has influenced my professional as well as private life." At first, Barbora felt that living abroad was a challenge, as everything was new and different from back home. It was also hard for her friends and family to understand her life in Kosovo – they were worried in the beginning. But despite these initial difficulties, Barbora has adjusted well in the end. "I got used to it. Now Kosovo is like my second home."
Back